👋 Aloha!*
Welcome to Thursday, where the first malaria vaccine gets approved by WHO, Tanzanian novelist Abdulrazak Gurnah wins the Nobel Prize for Literature and Squid Game sets off a flood of prank phone calls. We also feature an America Economia report about why the flowering cannabis business in Latin America is not just about the weed.
[*Hawaiian]

💡  SPOTLIGHT
Facing climate emergency, Africa must reinvent its cities
Due to climate change and pollution, entire neighborhoods and cities on the continent are destined to vanish. A new vision of African urbanism is needed to replace the illusion of the "city without limits."
Sebha is bound to disappear. The capital of Libya's hydrocarbon-rich Fezzan region has become the largest city in the Sahara. For years, it has seen the convergence of public and private capital, and a steady flow of migrants. Subjected to major demographic pressure, the city of the sands is now doomed. Sooner or later, the lack of water will empty it of its inhabitants — and return its territory to nature.
Sebha is not an isolated case. Everywhere, districts and cities face similar fates. Some because of rising water levels, others subject to rampant desertification, mega-fires or repeated cyclones. These are the devastating and unprecedented consequences of climate change, of course, that the latest report from the Intergovernmental Panel on Climate Change (IPCC) has just reminded us of.
But that's not the only cause. By participating in toxic production systems, we have degraded nature and altered climates. At the same time, since the industrial era, we have readily adhered to this crazy fantasy of the limitless city, capable of absorbing ever more inhabitants, without questioning its capacity to meet their basic needs.
Look at Los Angeles: For a long time now, California's largest metropolitan area has not had enough water resources. It gets its water from the Sierra Nevada, nearly 600 kilometers (373 miles) away. Even in one of the richest regions in the world, this infrastructure, which does not care about borders and distances, is running out of steam. Los Angeles has been suffering from water shortages for two decades, a problem out of step with its residents' standard of living.
In rich countries, the system is breaking down more quickly than we thought. In Africa, it is an absolute emergency. It is the last continent to urbanize, and the one that is doing so the fastest, without a state structure capable of financing the infrastructure that this implies.
Between high birth rates and rural exodus, Africa is home to 86 of the 100 fastest growing cities in the world. At least 79 of them — including 15 capitals — are facing extreme risks due to climate change.
The 13.2 million inhabitants of Kinshasa, the capital of the Democratic Republic of the Congo, are already regular victims of flooding. They will be twice as many by 2035. In Ethiopia, the number of city dwellers will increase from 24 to 74 million in the next three decades. Egypt's urban population will then reach 85 million, compared to 43 million today. It's so much growth that the authorities will have to create a new capital to relieve the urban hell of Cairo.
How to provide housing and equipment, roads and transport, drinking water and sanitation at such a sustained rate? It is impossible. Tensions over access to water, energy and telecommunications will increase as cities continue to have needs that exceed their territorial production capacity. Conflict is inevitable. We are heading for disaster.
That is unless we radically change the way we build our world. In Africa as elsewhere, this means first of all putting an end to the illusion of the city without limits. Some, like Sebha, will have to be abandoned to nature, and thousands of new ones will have to be built. But the thinking must be reversed, to find a balance between populations, resources and territories.
The new city must be appropriately sized, limited by its own resources: if a given territory can provide water and energy for 50,000 people, then the future city must not exceed that size.
To do this, we must reconnect with the visible infrastructure of the past, which was part of the landscape, calling for collective governance. This was the case of the Roman aqueducts and also of the Agdal basins, which integrated urban agriculture, as well as the wells located in each neighborhood, as is still the case today in Venice. This is now being tried in Morocco, with the creation of the city of Mazagan, near El-Jadida, which we already know will not have more than 200,000 inhabitants.
The consequences of climate change, demographic pressure and rampant urbanization leave us no choice: Africa must be the scene of the reinvention of the city in the 21st century. And for that, it is urgent that it becomes again a laboratory of architectural and urban experimentation, with all the more legitimacy that it will no longer be, as in the past, a colonial laboratory.
On the contrary, we must tap into what Africa is capable of offering the world through modes of organization, traditional resource management and the use of materials that have fallen into oblivion. This kind of experimentation is, for example, the raison d'être of the Moroccan Pavilion at the Dubai 2020 World Expo. Made of raw earth, the building stretches 34 meters tall, an unprecedented height. More durable than concrete, raw earth, an African material par excellence, also makes it possible to do without air conditioning in one of the hottest places on Earth.
If Africa continues to impose urban planning models thought up elsewhere, without a critical dimension, it will end up in chaos. Here too, we must decolonize our thinking and imagine collective organizations that will enable us to adapt to the major displacements that climate change is already imposing on us. It is in Africa that we can learn to be nomads again, so as not to become refugees.
— Tarik Oualalou / Jeune Afrique
🌎  7 THINGS TO KNOW RIGHT NOW
• First malaria vaccine gets WHO approval: The World Health Organization has approved the RTS,S/AS01 malaria vaccine, the first against the mosquito-borne disease that kills more than 260,000 African children under the age of five every year. It is also the first vaccine developed for any parasitic disease.
• Tanzanian novelist wins Nobel Prize in Literature: Abdulrazak Gurnah, a Tanzanian novelist born in Zanzibar and based in the UK, was awarded the 2021 Nobel Prize in Literature for "for his uncompromising and compassionate penetration of the effects of colonialism and the fate of the refugee in the gulf between cultures and continents."
• NATO expels eight Russians for spying: The military alliance has expelled eight Russian diplomats saying they were secretly working as intelligence officers. NATO has also forced the Moscow mission working at its Brussels headquarters to be reduced in size by half.
• COVID-19 vaccine updates: Sweden and Denmark put the use of the Moderna vaccine on hold for people born in 1991 and later, after reports of possible rare cardiovascular side effects. A new study confirms that immune protection of the Pfizer jabs drops off after two months, though protection against severe disease and death remains strong. Meanwhile, the AstraZeneca vaccine finally reaches the Antarctic, to immunize the 23 people working at UK's Rothera research station.
• At least 20 dead in Pakistan earthquake: A magnitude 5.9 earthquake struck Pakistan's southwestern province of Balochistan overnight, killing at least 20 people and injuring more than 200.
• Texas abortion law temporarily blocked: A U.S. federal judge has issued an order to block Texas' near-total ban on abortion, saying that women have been "unlawfully prevented from exercising control over their lives in ways that are protected by the Constitution."
• Netflix to edit phone number out of Squid Game: Netflix's hit South Korean-made gory series Squid Game will get an edit to change a phone number that appears on screen, after the woman who owns it in real life got inundated with calls.
🗞️  FRONT PAGE
British weekly newspaper The New European reports on UK Prime Minister Boris Johnson's speech at the Conservative party conference yesterday, during which he defended his strategy of restricting the supply of foreign labor after Brexit and instead blamed the trucking industry for underinvesting. The country is currently facing a truck driver shortage which led to supply chain strains and fuel shortage.
#️⃣  BY THE NUMBERS
Each day, an average of 100 Argentines leave the country to live abroad, according to Argentine daily Clarín. In nine months, the brain drain has amounted to 26,000 departures, although Clarín estimates it might be much more. Chronic economic, political, and social instability, as well as a lack of prospects, push the youth to flee the country — the only country in Latin America, alongside Venezuela, where the standard of living has fallen over the last decade.
📰  STORY OF THE DAY
Cannabis could be Latin America's next big export (and it's not just the weed)
Latin American businesses and governments are seeing the marketing and export potentials of an incipient liberalization of marijuana laws in the region. But to really cash in, it must be an investment in more than the raw material, writes Natalia Vera Ramírez in business magazine America Economia.
🚬 After his stint at Stanford University business school in California, Uruguayan entrepreneur Andrés Israel began to research the nascent global cannabis industry, to find the countries with the most favorable regulations for its large-scale production and use. They were Canada and Uruguay, with the latter legalizing its recreational use in 2013. After he returned home, Israel founded the Cannabis Company Builder (CCB) in 2020 to help new firms exploit Uruguay's new legal framework. Cannabis, he says, is a "blue ocean" industry, with a major growth horizon and few current regulations — and Uruguay is at its forefront.
🩺 Colombia is following Uruguay's regulatory steps. In July 2021, President Iván Duque signed Decree 811 to allow the export of cannabis leaves and specific commercial and industrial usage for hemp. But Colombian firms are making plans to go beyond export cannabis as raw material. CEO and founder of Medical Extractos, Henry Muñoz, says firms are already working on "quality" medicinal products that are affordable and marketable abroad. Muñoz says his firm is researching with scientists and other companies the effects of cannabis on Alzheimer's' disease.
🇲🇽 But along with Brazil and its 220 million inhabitants, there is another player that could become the biggest in the cannabis market: Mexico. After vicissitudes, the country's Supreme Court ruled in June 2021 that the ban on recreational use of marijuana was unconstitutional. It thus annulled those articles of Mexico's General Law on Health that banned the recreational use, private cultivation and transportation of marijuana. If and when the country legislates to permit recreational marijuana, it will become the "cherry on the cake in this industry, and earn big profits for its economy," says Henry Muñoz.

➡️ Read more on Worldcrunch.com
📣 VERBATIM
"This is close to breaking the rule of law."
— Slovenian Prime Minister Janez Janša tells Euronews his thoughts on the European Union's efforts to ensure member states comply with the bloc's fundamental values, blaming EU Commission President Ursula von der Leyen for entering into "political battles" and failing to be an "honest broker". Janša's comments come as the Commission is set to introduce a rule suspending EU payments — including significant COVID recovery money — for member states that fail to respect EU values such as press freedom or an independent justice system.
📸  PHOTO DU JOUR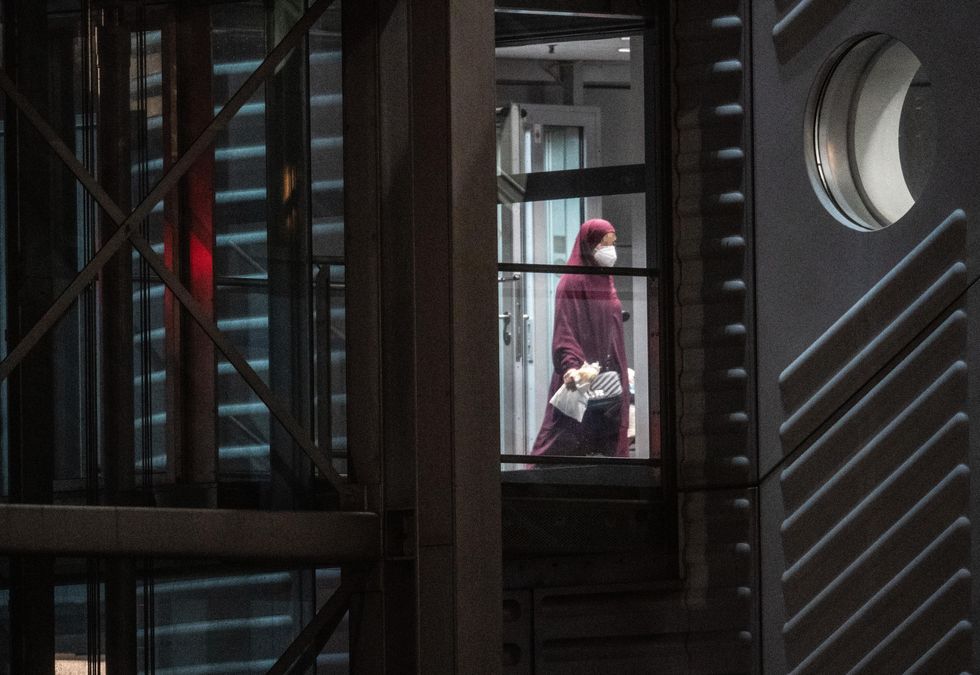 Germany has repatriated eight women who had joined the Islamic State as well as 23 children from the Roj detention camp in north-east Syria, in a joint operation with Denmark, which also flew back three women and 14 children. The women, currently in custody, are facing a criminal investigation — Photo: Boris Roessler/dpa/ZUMA
✍️ Newsletter by Anne-Sophie Goninet, Jane Herbelin and Bertrand Hauger
From Your Site Articles
Related Articles Around the Web
window.REBELMOUSE_LOWEST_TASKS_QUEUE.push(function(){
!function(f,b,e,v,n,t,s){if(f.fbq)return;n=f.fbq=function(){n.callMethod? n.callMethod.apply(n,arguments):n.queue.push(arguments)};if(!f._fbq)f._fbq=n;n.push=n;n.loaded=!0;n.version='2.0';n.queue=[];t=b.createElement(e);t.async=!0;t.src=v;s=b.getElementsByTagName(e)[0]; s.parentNode.insertBefore(t,s)}(window,document,'script','https://connect.facebook.net/en_US/fbevents.js'); fbq('init', '174175256949842');fbq('track', 'PageView');
});
window.REBELMOUSE_LOWEST_TASKS_QUEUE.push(function(){
if(document.querySelector("#hw_search_icon")) { document.querySelector("#hw_search_icon").addEventListener("click", openSearchUI); }
function openSearchUI() {
var searchOpened = document.querySelector("#hw_search_icon"); if (searchOpened.classList.contains('search-open')) { searchOpened.classList.remove("search-open"); document.getElementById('search_modal').style.display='none';
} else { searchOpened.classList.add("search-open"); document.getElementById('search_modal').style.display='inline-block'; document.getElementById('search_big').focus(); }
}
});
window.REBELMOUSE_LOWEST_TASKS_QUEUE.push(function(){
function allAuthorsSplit() { var allAuthors = document.querySelectorAll(".split-author .custom-field-original-author:not(.proccessed)");
for( var i = 0; i < allAuthors.length; i++) { allAuthors[i].classList.add("proccessed"); allAuthors[i].innerText = allAuthors[i].innerText.split(" and ")[0]; allAuthors[i].innerText = allAuthors[i].innerText.split(" , ")[0]; allAuthors[i].innerText = allAuthors[i].innerText.split(",")[0]; } } window.IcreateElementChangeListener= function (selector, callback) { const initializedNodes = new Set([]); document.querySelectorAll(selector).forEach((node) => { callback(node); initializedNodes.add(node); });
const mutationObserver = new MutationObserver(() => { const nodes = document.querySelectorAll(selector); nodes.forEach((node) => { if (!initializedNodes.has(node)) { callback(node); initializedNodes.add(node); } }); });
mutationObserver.observe(document.body, { childList: true, subtree: true, }); }
IcreateElementChangeListener('.posts-wrapper',function(item){ allAuthorsSplit(); });
document.querySelectorAll("p > br").forEach((x)=>{x.remove()});
});