The crowd chanted 'liars' and 'tell the truth' from the building's front entrance, with dozens of police officers forced to push them back from the glass doors.
While some brayed for 'the lying media' to be held accountable, others called for calm.
"We are not extremists," one said. Police had made no arrests at the protest by 5pm.
There have been many anti-lockdown protests in Melbourne over the past 18 months, but the pandemic legislation has galvanised the "freedom" movement over the past six weeks, bringing tens of thousands out for mass weekend protests.
Loading
Participants have included Victorians who have lost work due to vaccine mandates or are concerned about state overreach during the pandemic. But there are also many QAnon conspiracy theorists and in recent weeks several prominent far-right, anti-Semitic figures and members of neo-Nazi organisations.
Omar Hasson, a spokeman for the 'Campaign Against Racism and Fascism' counter rally, said the protests were a recruiting ground for the far right.
"Far from being defenders of freedom and democracy, their opposition to public health measures including lockdowns and vaccines reflect a reactionary agenda that prioritises corporate interests over public health," Mr Hassan said.
Warriors of the Aboriginal Resistance spokesperson Meriki Onus, who spoke at the counter-rally called out the 'freedom' movement for pushing misinformation about Indigenous communities.
"Anti-vaxxers have systematically targeted Indigenous communities with misinformation and propaganda, and now they're claiming to be on the side of Aboriginal people," Ms Onus said.
This week's protest focused on the anniversary of the Eureka Stockade, with Mr Kelly in his speech claiming opposition to the use of vaccine passports was comparable to the rebellion over the introduction of licences for gold miners in 1854.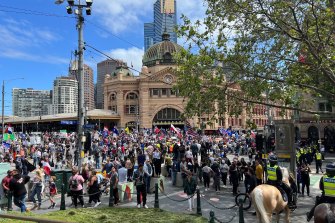 "167 years later it's the same," he said.
On Saturday the Victorian Health Department revealed at least one positive case within a growing COVID-19 cluster linked to the recent protests is now in intensive care.
In an update Victoria's Chief Health Officer said 39 of the state's 14,383 active COVID-19 cases had been directly linked to last month's protests in the CBD, and an additional 32 infections were indirectly tied to the demonstrations. Four cases are in hospital, including the person in ICU.
Public health staff are investigating whether 14 individuals who attended a mass gathering while infectious and another 22 cases acquired COVID-19 during the protests.
Health authorities have urged anyone who has attended a protest and who had even the mildest of symptoms to get tested.
Victoria's new pandemic laws will shift the responsibility to declare pandemics and issue health orders from the chief health officer to the premier and health minister of the day after the existing state of emergency powers expire on December 15.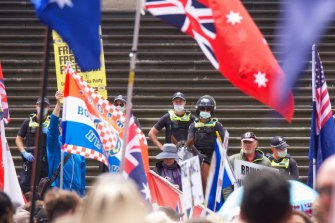 Following a month of debate and amendments, the pandemic bill passed the upper house, 20 votes to 18, on Thursday, thanks to crossbench support from Greens leader Samantha Ratnam, the Reason Party's Fiona Patten, Animal Justice Party's Andy Meddick and Transport Matters representative Rod Barton.
Fascinating answers to perplexing questions delivered to your inbox every week. Sign up to get our new Explainer newsletter here.